Please follow the steps below:
1. Turn on the computer and immediately press the Escape key repeatedly, about once every second, until the Startup Menu opens.
You should see this menu: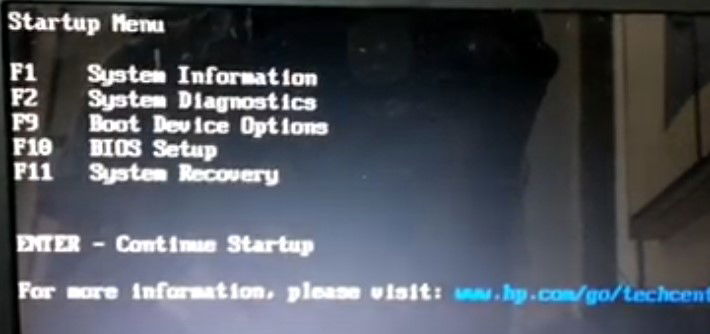 2. Press F9 to open the Boot Device Options menu.
3. Use the up or down arrow key to select the USB drive, and then press Enter.
3B. If you do not see the "Boot Device Options", or if the USB / DVD did not appear in the Boot Manager Window, press F10 to open BIOS Setup. then continue to step 4:
4. Use the right arrow key to choose the System Configuration menu, use the down arrow key to select Boot Options, then press Enter.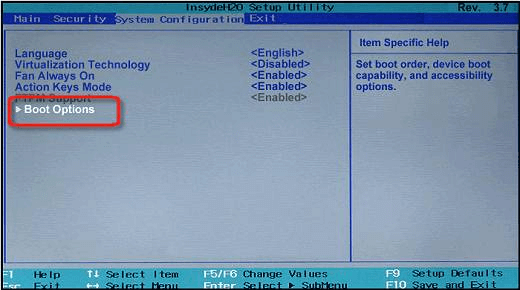 5. Use the down arrow key to select Secure Boot, press Enter, then use the down arrow key to modify the setting to DISABLED.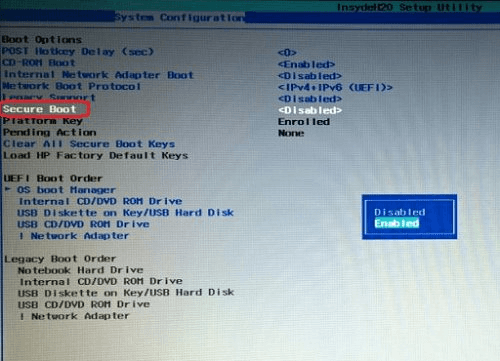 6. Use the up and down arrow keys to select Legacy Support, press Enter to change the setting to ENABLE and press Enter again.
7. Use the left and right arrow keys to select Yes on the confirmation window and press Enter to enable Legacy Support.

8. Use the down arrow key to select the device you want to boot from in the Legacy Boot Order menu, and press F5 and F6 to move the device down or up.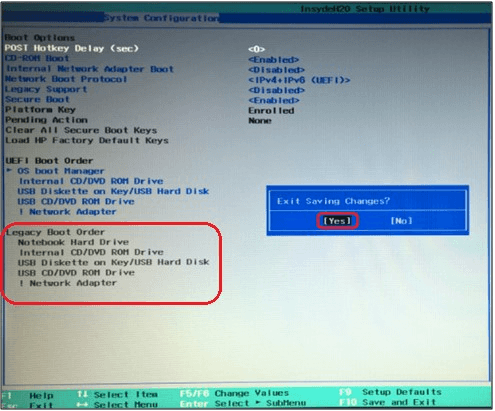 9. Press F10 to accept the changes and use the left arrow key to select Yes and press Enter to Exit Saving Changes.
10. As soon as the computer starts, a message may appear indicating that the boot mode has changed, if so, type the four-digit code shown in the message, then press Enter to confirm the change. Otherwise, continue with the next step.

* note: Make sure you type the code correctly, since there is no text field to see what you are typing. This is expected behavior. When you type the numbers, the code is logged without a text field.
11. Now restart the laptop again as shown in steps 1, 2 and 3, but this time choose the "Boot Device Options" as shown in step 3.
If you still having trouble booting from the USB please contact us via this page, or by email: info@linuxartists.com .